Over the past year, the rapid evolution of artificial intelligence (AI) has shaken up a variety of sectors, and customer service is no exception. But what exactly will AI for Customer Service look like in the coming years, and how will AI tools impact the customer service landscape?
Customer service is one of the industries with the most AI potential. From improving the overall customer experience to increasing the internal agility and efficiency of customer service departments, AI tools are designed to streamline specific processes in ways that humans cannot.
In this blog, we'll look at how the focus of businesses and contact centres is shifting from cost-cutting to providing a better customer experience, and explore how emerging AI technology is enabling them to achieve better customer service.
The Importance of Customer Experience
Business optimisation is no longer just about lowering costs and increasing outputs. This has become increasingly clear in recent years as the concept of customer experience (CX) has emerged as one of the industry's most important components.
According to a recent SuperOffice survey of over 1,920 business leaders, 45.9% rank customer experience as their top priority for the next five years, ahead of pricing and product.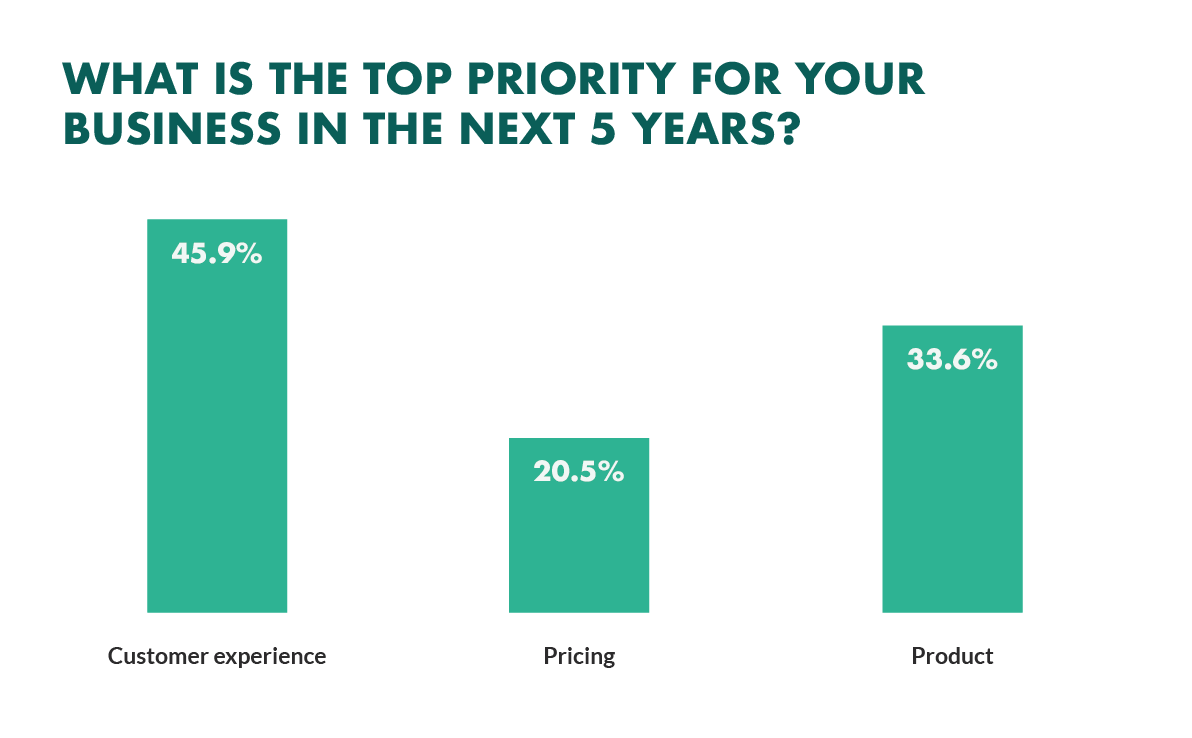 Customer experience is, by definition, human-centric, and to compete in the customer engagement landscape, contact centres and customer service teams must provide a pleasurable, seamless, and, most importantly, human experience.
So where does AI fit into these human experiences?
The Rising Demand for Customer Service AI
As the importance of customer experience increases, so does the focus on emerging contact centre AI technology. According to a Deloitte survey, 79% of customer service leaders plan to invest in more AI capabilities over the next two years.
AI technology offers a wealth of possibilities for customer engagement, and it's only going to become more relevant in how businesses interact with their customers.
But what will the future of AI for customer engagement look like? How will the customer service of the future balance automation tools and AI implementation with a human, personalised customer experience?
The Top 4 AI tools that are reshaping customer service
To remain competitive, contact centre leaders must figure out how to balance the significant leverage that AI can provide with the human aspects of customer engagement.
To demonstrate how this marriage of AI and human-led processes will work, here are four contact centre AI tools that will help firms provide better customer experiences:
1. Chatbots and Virtual Customer Assistance for Self-Service
According to a study by Userlike, 60% of people would rather talk to a live agent than use a chatbot; their main concern is that a chatbot might not be able to accurately understand their queries.
However, when used correctly, chatbots can be extremely effective. According to a Gartner 2023 study, chatbot resolution rates for customer queries related to orders and purchases were 52%, while returns or cancellations were 48%. With chatbot AI still in its infancy, these rates are expected to skyrocket in the coming years.
The bottom line is that, when used correctly, chatbots can be an extremely useful tool, but they cannot replace the importance of human support. The more advanced the AI powering a chatbot, the faster it will respond to standard queries than any customer agent.
The right chatbot will relieve staff of these simple queries, but it will not completely replace them: instead, it will allow them to focus their skills on high-value interactions that require a human component or special expertise.
2. Interactive Voice Routing (IVR)
AI IVRs (Interactive Voice Response) have revolutionised customer service by utilising ASR (Automatic Speech Recognition) and NLP (Natural Language Processing) to understand customer queries and provide accurate and relevant information. These systems enable customers to interact with businesses using voice commands, eliminating the need for traditional menu-driven IVR systems.
By leveraging AI, IVRs can intelligently route calls to the most appropriate department or agent, reducing wait times and enhancing the overall customer experience. Additionally, AI IVRs can handle routine inquiries and perform basic tasks, such as bill payments or order tracking, without the need for human intervention.
This automation streamlines operations and frees up human agents to focus on more complex and high-value interactions. With their ability to deliver fast, accurate, and personalised responses, AI IVRs significantly improve customer satisfaction, leading to increased loyalty and improved business outcomes.
3. Sentiment Analysis
Advancements in speech analytics AI have been remarkably rapid. While AI has not fully mastered certain aspects of language, such as irony, which rely on complex human factors such as socialisation and culture, its understanding of language is frequently comparable to, if not exceeding, human capabilities.
One standout application of speech analytics AI for contact centres is Sentiment Analysis. By analysing factors like tone, vocabulary, speech rhythm, and inflection, AI can accurately gauge the emotions of callers. This enables AI to track the caller's emotional state throughout a conversation and also evaluate the agent's customer service performance.
By leveraging Sentiment Analysis technology, customer service departments and contact centre managers gain valuable real-time insights into their teams' performances, which will facilitate providing targeted coaching to enhance their customer service skills.
4. Keyphrase Analytics and Entity Recognition
Sentiment Analysis is not the only way speech analytics AI tools can extract valuable conclusions from what customers say.
Keyphrase analysis tools, for instance, will note the words or phrases that are used the most frequently during calls and text conversations and present the information in a straightforward, useful report for managers or other stakeholders to use. In other words, it will reveal what customers actually care about, enabling contact centres and customer service departments to foresee market trends and maintain an advantage over rivals.
Furthermore, Entity Recognition AI can assist customer service managers in detecting mentions of specific entities in calls. This makes it incredibly simple to see how frequently companies, brands, or products are mentioned by callers in real time. Businesses can then use this data to identify which entities (such as products, time periods, prices, and so on) are relevant to their business and categorise them for future reporting.
Using this information, Entity Recognition AI will be able to recognize each time one of these entities is mentioned during a customer service interaction, note it, and categorise it in line with those categories before reporting its findings as necessary.
Remaining Competitive with Contact Centre AI
With new advancements in AI popping up every day, customer service departments and contact centres must quickly adapt to harness this technology in order to maintain a competitive edge. AI and automation should not only improve customer engagement efficiency and process optimisation, but also make customers feel heard, which is, after all, what this industry is all about.
Adapting to this ever-changing technological landscape can be a daunting task for customer service leaders and decision-makers. With a constant stream of new applications and tools to consider, it can feel overwhelming for contact centre leaders to keep up.
That's where the Connex One platform can help. Our suite of customer engagement tools and AI is designed to be flexible and adaptable, growing alongside our clients' evolving needs and requirements. We continually incorporate new features based on valuable feedback from our clients, ensuring that our platform remains at the forefront of customer engagement AI.
To learn more about how Connex One is pioneering customer engagement AI and improving customer service operations across the globe, get in touch with our team at hello@connexone.co.za or click here to request a free discovery session of our platform.